I entered the
Itch to Stitch Birthday Giveaway
after reading about it on Scruffy Badger's blog. To my surprise, I won! The grand prize was a lovely bundle of fabrics,
The Shirtmaking Workbook
, 3 Craftsy classes, gift certificates to Girl Charlee, Upcraft Club, and Indie Sew, plus a gift certificate to The Fabric Store in LA which I'm dying to visit when we take our Disneyland/LA vacation this fall.
The fabrics:
Dolce & Gabbana boiled wool printed with butterflies and flowers
I have about 2.5 yards of this fabric. The reverse is a marled gray knit. I'm not totally sold on the floral, but I could always use it wrong side out and then the print would take the place of a fun lining (which wouldn't be needed). I do like the colors, though, so maybe I'll use it right side out. Still undecided on this.
Inspiration: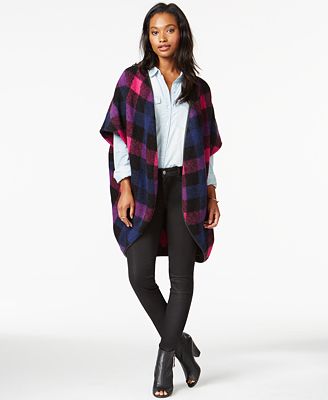 Cocoon poncho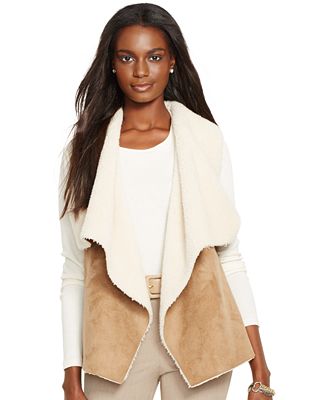 Draped vest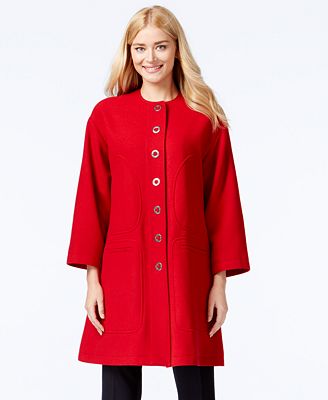 Swing coat
I think any of these styles would work with the wool. The vest would work well with the double-faced fabric but I'm not sure if it's a style I'd wear often. The poncho would be super cozy and would be a way to use the print that I'd be comfortable with. The coat would probably have to be shorter, but I think the wool would lend itself to a simple, unlined style like this.
Wrong side
Chanel matelasse
This fabric is just fun. It's not what I think of when I think of matelasse; it's sort of a crinkled/pleated texture with metallic dots in a random pattern all over it. I'm thinking of making this into a skirt. The structure is unlike anything I've sewn with before, so I'm still debating the best way to work with it. It's times like this when a dress form would come in handy (along with some idea of how to drape and create patterns.) Anyways, this is a fabric I'll hang onto, but it's not at the top of my to-use list.
Viscose challis
I want to make this into a cute set of summer PJs. Again, this print isn't totally my style; although I really like it, I can't see it fitting into my daily wardrobe. I'd love a pair of matching PJs, though, and this lightweight challis would be cool and comfy for summer.
I have tendencies to hoard things, so I haven't used all my credits, but I did sign up for and start the
Beginner Serging
Craftsy class by Amy Alan, and just signed up for the Suzy Furrer
Patternmaking & Design: The Pants Sloper
class. I picked out the
Mila
shirt pattern by Itch to Stitch and the
Archer
by Grainline from Indie Sew (one of my new favorite shops). I also got the
Jacqueline
jacket pattern by Itch to Stitch (Kennis makes some cute patterns!) and the
Satya
romper pattern by Jennuine Design from Upcraft Club. Upcraft Club was very helpful when I (hoarder-like) didn't use my credit quickly enough and let me use it anyways - thank you! I was introduced to some great sewing resources, especially for indie sewing patterns, through this giveaway and now my sewing to-do list has at least doubled!
And now I am off to spend what's left of naptime dyeing a piece of fabric to sew into an onbu carrier.