Well, I
think
this is week 3. I thought I'd share my patterns first, since I sort of mentioned them but didn't give any detail. Except for the Alabama Chanin skirt - that's in the Polyvore board. Also, more on that below.
The dress is the
Lisette Traveler dress
, aka Simplicity 2246. I want to make something like View B but with the regular collar from View A in a plaid flannel. I love a certain fabric I found online but I wavered on my decision and now it's backordered until mid-October. (I have a feeling I might be stretching my timeline for this challenge.)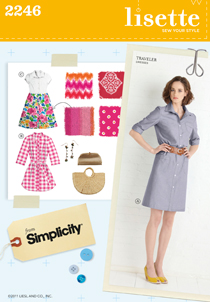 Lisette Traveler
The jacket (which isn't on my official list) is from Simplicity 2443, a Cynthia Rowley pattern with a knit dress and a jacket. There's a version of the jacket that you can see
here
that's a little more like what I'm thinking... I want to try it in a tweed or something like that, without the pockets and plackets and bits on the front.
Simplicity 2443


I just want some big buttons instead of the ties, and I'd leave the band off the sleeves to make them a little simpler. My inspiration (from J. Crew) shows the idea I'm going for that I
think
I can get from this pattern.
And no pattern needed for the scarf, but here's the fabric:
I think I'm going to make a circle/infinity scarf from this. It's very light, I think it might be a Swiss dot? It has those little raised polka dots on it... don't know if that's the right term though.
And I've been working on the reverse-applique skirt. Not too quickly, I'm not quite done with the first panel, but making progress. It's gone from this:
As you can see, I'm using a navy blue jersey for the top layer. The bottom layer is a white jersey that I
may
or may not have washed with the blue causing it to become a very very pale blue itself... And the stenciled parts are a sort of metallic champagne with natural colored thread stitching it all together. I think I'll go for a blue thread for the seams, though. I haven't done much hand-stitching before, and I'm really liking it.
On a side note, did you know that the kit for the rose applique skirt is
$140
?!
I've also been making not-for-me things that I'll share later on.